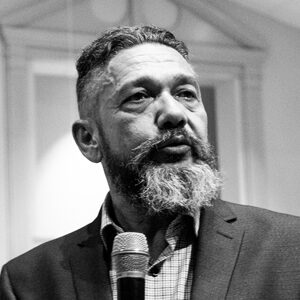 David Remedios, along with his wife Yvonne, has been the Senior Pastors of Trinity Christian Center since May of 2002. Pastor David is a bi-vocational pastor, general surgeon, and a decorated veteran. He is the CEO of the Louisiana Outpouring and Christ Compassion Ministries. His greatest desire is to see the presence of God poured out on this generation, impacting our community, region, and the nations of the world.
Samuel Rodriguez, lead pastor of New Season, one of America's most influential mega churches according to Newsmax, is the president of the National Hispanic Christian Leadership Conference, one of the world's largest Christian organizations. Rodriguez stands recognized by CNN, FOX News, Univision and Telemundo as America's most influential Latino/Hispanic faith leader. Charisma magazine named him one of the 40 leaders who changed the world. The Wall St. Journal named him one of the top 12 Latino leaders and he was the only faith leader on that list. He has been named among the "Top 100 Christian Leaders in America" (Newsmax 2018) and nominated as one of the "100 most influential people in the world" (TIME 2013). Rodriguez has advised Presidents Bush, Obama, and Trump and frequently consults with members of Congress to advance life, religious liberty and biblical justice initiatives including immigration and criminal justice reform. He is the best-selling author of "Be Light" and executive producer of three films including BREAKTHROUGH. Rodriguez is the recipient of the Martin Luther King Jr. Leadership Award presented by the Congress of Racial Equality.
Claudio Freidzon is pastor of the church Rey de Reyes, a congregation of more than 20,000 members in Belgrano, Buenos Aires. Since the Lord changed his life he has experienced great crusades in many countries throughout America, Europe and Africa. His ministry of worship and power has reached the world through his books and videos.
Betty Freidzon is co-founder of Iglesia Rey de Reyes (Ministry to the Nations) in Buenos Aires, Argentina. She is vice president of the Rey de Reyes Foundation, an institution that is dedicated to providing food, medicine, hospital equipment and the installation of drinking water to different locations in her country. She is a lecturer, writer and honorary doctorate. Betty participated in evangelistic crusades around the world, preaching Christ and challenging believers. She created "La casa de la mujer", a community service that provides job training to women. She founded the Buenos Aires Christian School, a bilingual school of educational excellence for children and adolescents, based on an ethical and moral formation in Christian values. Betty lives in Buenos Aires, with her husband Claudio Freidzon, she has three adult children.